The 11th APOCP GA
Welcome
Committees
Registration/ Important dates
Awards
Sponsors
Welcome
Dear participants, 
We are pleased to invite you to the 11th General Assembly of the Asia Pacific Organisation for Cancer Prevention and the APOCP11 Conference on Cancer Prevention, which will be held at Kolkata (INDIA) during December 8-10, 2022. The Conference is hosted by the Cancer Foundation of India, Kolkata (www.cficancer.org). 
We are honoured in welcoming you to the Conference, which intends to comprehensively cover every aspect of cancer prevention and control as viewed, researched, and practised in Asian Pacific countries. There will be plenary lectures by invited global leaders followed by Oral presentations and Poster Sessions on a host of topics in contemporary research in cancer prevention. In addition, a Panel Discussion is planned on the WHO's call for the elimination of cervical cancer, its challenges, and the way forward in Low- and middle-income countries. Furthermore, we are introducing the topics of the role of integrating traditional medicine/practices and immunity in the prevention of cancer as new topics in the event. Besides, there will be an exhibition by the stakeholder companies dealing with vaccines and diagnostic products/devices.
We are looking forward to your participation in this important scientific meeting being held in India for the first time. We wish you a scientifically rewarding time at the Conference and a pleasant stay in Kolkata, the City of Joy.
 

Prof Maqsood Siddiqi

President, APOCP

Ms Sutapa Biswas 

Organizing Secretary

Dr. Alireza Mosavi Jarrahi

Secretary General, APOCP
Committees
The scientific committee
Prof. Sharmila Sengupta, PhD, FNASc., FASc. &T,  (Chairperson)
Eminent Scientist,
National Institute of Biomedical Genomics, Kalyani
Dr. Asima Mukhopadhyay, MD, DNB, MRCOG, PhD
Specialist, Gynaecological Oncology,
Chittaranjan National Cancer Institute (CNCI), Kolkata
Dr. Bobby Paul, MD, MPH
Associate Professor,
Department of Preventive and Social Medicine,
All India Institute of Hygiene & Public Health, Kolkata
Dr. Dona Sinha, PhD
Scientific Officer I, Receptor Biology and Tumor Metastasis,
Chittaranjan National Cancer Institute (CNCI), Kolkata
Dr. Rathindranath Baral, PhD,
Scientific Officer I,
Department of Immuno-regulation and Immunodiagnostics, ,
Chittaranjan National Cancer Institute (CNCI), Kolkata
Dr. Richa Tripathy, PhD,
Scientist, All India Institute of Ayurveda, New Delhi
Dr. Sankhadeep Dutta, PhD,
Scientific Officer II, Department of Oncogene Regulation,
Chittaranjan National Cancer Institute (CNCI), Kolkata
Dr. Soma Roychowdhury, PhD,
Cancer Foundation of India, Kolkata
Ms. Sutapa Biswas, PG Dip Mass Comm, (Convener)
Co-founder & Executive Director,
Cancer Foundation of India, Kolkata
Dr Shalini Singh, MS, Director, National Institute of Cancer Prevention Research (NICPR), Noida, Kalkata.
Susanta Roychoudhury, PhD, FNA, FASc, FNASc, FASc&T, ICMR Emeritus Scientist, CSIR-Indian Institute of Chemical Biology, Kolkata.
---
The National Advisory Committee
Professor M. Radhakrishna Pillai, FRCPath, PhD, FASc, FNASc, FAMS, FNA, (Chairperson)
Former Director, Rajiv Gandhi Centre of Biotechnology, Thiruvananthapuram
Professor Bhudev C. Das, PhD, FNASc, FASc, FAMS, FNA
Chairman,  Amity Institute of Mol. Med. & Stem Cell Res.,
Amity University, Noida
Professor Eric Zomawia, MD
Mission Director, National Health Mission, Department of Health,
Government of Mizoram, Aizawl
Dr Jayanta Chakravarty, MS, DNB
Director, Chittaranjan National Cancer Institute, Kolkata
Professor Neerja Bhatla, MD
Head, Department of Gynecology,
All India Institute of Medical Sciences, New Delhi
Dr Prakash C. Gupta, PhD
Director, Healis-Sekhsalia Institute of Public Health, Mumbai
Professor  Radhika Srinivasan, MD
Professor and Head, Department of Cytology & Gynecological Pathology
Post Graduate Institute of Medical Education & Research, Chandigarh
Professor Ravi Mehrotra, MD, D.Phil, FRC Path
Former CEO, Indian Cancer Research Consortium,
Indian Council of Medical Research, New Delhi
Professor Sharmila Pimple, M.D
Head, WHO Collaborating Centre for Cancer Prevention, Screening & Early Detection, & Professor & Physician
Department of Preventive Oncology, Centre for Cancer Epidemiology (CCE)
Tata Memorial Centre, Mumbai
Professor Tanuja Nesari, MD, PhD (Ayur)
Director, All India Institute of Ayurveda, New Delhi
Registration/ Important dates
Participation in the Meeting
There will be two categories of scientists who want to participate:
Participants who want to have a live presentation in the symposium.  These participants need to send an abstract for the meeting.  The abstract will be evaluated and decided on. Abstract accepted for oral pretension or Poster presentation will have the chance to present onsite (onsite presentation is subject to registration fees-see the fee schedule at the bottom of this page). Accepted abstracts must be presented during the session and already have his/her slides prepared and sent to the organizing committee for further preparation.  The details on how to prepare the presentation will be sent to the applicant later.
All the accepted abstracts will be published and received DOI as the symposium abstract book. 
Participants who just want to participate with no presentation. This category of participants must register with the meeting to participate.  Participation is subject to the registration fee (see the fee schedules down this page).
---
---
---
---
Registration Charges
CATEGORIES
DATES
ON SITE Participation
STUDENTS
ACADEMIC / FACULTY
CORPORATE / INDUSTRY

Indian

Delegate

Foreign

Delegate

Indian

Delegate

Foreign

Delegate

Indian

Delegate

Foreign

Delegate

EARLY BIRD Registration

On or before

15th August

2022

Rs.

3,000

USD

300

Rs.

6,000

USD

400

Rs

20,000

USD

1,000

NORMAL Registration

On or before

31stOctober 2022

Rs.

4,000

USD

400

Rs.

8,000

USD

600

Rs

25,000

USD

1,500

SPOT Registration
 

Rs.

2,000

per day

x

Rs.

3,000

per day

x

Rs

10,000

per day

x

Accompanying person
 

Rs.

2,000

USD

150

Rs.

3,000

USD

200

Rs

10,000

USD

500
Bank details for payment of Registration Fee
Account Name: Cancer Foundation of India

Account Number: 401010110003821

Bank IFSC Code: BKID0004010

MICR Code: 700013028

Bank Name: Bank of India

Bank branch: Jodhpur Park

Branch code: 004010 

Bank Address: 1/424, Gariahat Road (South), Kolkata 700068.
Awards
Young Investigator Awards
In order to encourage young investigators to present their research, there will be five awards of 300 US dollars to be given to five young scientists with the best presentation in the different categories of the program. A panel of experts who constitute the prize committee will decide on selecting the candidate for the prize. The candidate will be selected from those who present their research live in the meeting. The decision about the candidate will be announced at the closing ceremony on the last day of the event.
The Young Investigator Awards is supported by the APOCP's West Asia Chapter .
Sponsors
---
The Cancer Foundation of India (CFI)
,
 based in Kolkata, is a voluntary organization dedicated to cancer prevention and control in India. At CFI a team of highly motivated professionals has been actively engaged in cancer control activities since 2002. Through the activities of the organization, we try to bridge the gap that exists in cancer public health, education, training & human resource development, population research, and cancer survivor issues in the country.

---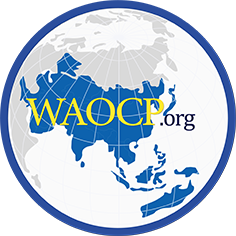 The West Asia Organization for Cancer Prevention
The West Asia Organization for Cancer Prevention (WAOCP) and identified mainly by its textual graphic "WAOCP.org"  was founded in November 2015 as the West and Central Asia chapter of APOCP. The decision to establish a subsidiary of APOCP was ratified by APOCP's steering committee at the 9th regional meeting of APOCP in Tehran, Iran.
---